A client in the agriculture industry reached out to Current Group to contact our industrial electrical design and installation services in order to improve a conveyor maintenance safety process. This involved putting together a safety relay cable disconnect system, always in easy reach.
The Problem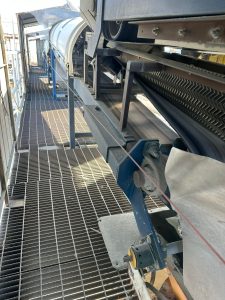 An agriculture fertilizer blending plant has numerous long conveyors at its facility that moves the product from one location to the other. These conveyor systems are comprised of belts, rollers, motors and gearboxes. A series of guards are also installed to protect the workers from these belts and roller systems. The guards are only removed during maintenance and testing of the repair. During one of these maintenance times, the company experienced a near-miss incident where a worker just about got entangled in the pulley-belt mechanism. Conveyor stop buttons are located on the platform exits, making it difficult to shut down the system in an emergency. The plant was in need of a new safety cable system.
The Solution
This near-miss incident brought major awareness to the company, and they called Current Group to figure out how to make maintaining their conveyor systems a safer process. Together we reviewed the conveyors and came up with a new cable-pull disconnect system that ran the length of the conveyor. This continuous cable was installed at waist height and would instantly stop the conveyor once pulled.
The Services Provided
The customer utilized Current Group's design and installation services to find a solution. This included researching and sourcing the correct cable system disconnect relay suitable for the electrical hazardous zone classification. Finally, we connected the new emergency shutdown cable to the control system and updated the facility shutdown key.